Emma Raducanu's meteoric rise through tennis stardom has been nothing short of extraordinary.
From her breakthrough performance at the 2021 US Open to her captivating style on and off the court, Raducanu has captured the hearts of tennis fans worldwide. However, her career has recently been derailed by a series of unfortunate injuries, which have necessitated surgeries and time away from the sport.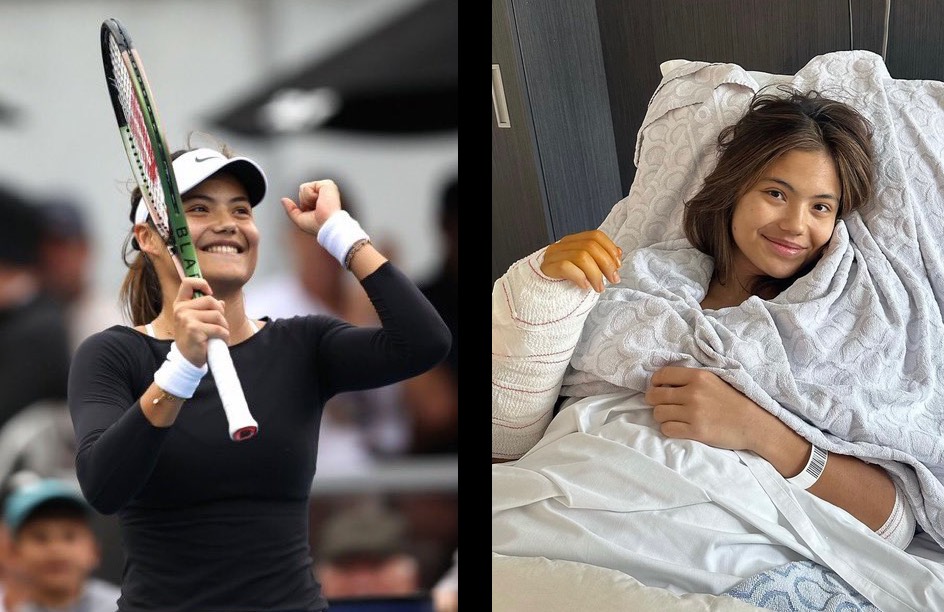 In this article, we will discuss the impact of these injuries on her career, her recovery process, and what the future may hold for this young tennis sensation.
Since her remarkable 2021 season, Emma Raducanu has faced numerous setbacks due to injuries.
From breathing difficulties at Wimbledon in 2021 to a wrist injury at the Transylvania Open in 2022, Raducanu has endured her fair share of struggles when it comes to starting her career. Most recently, in May 2023, she confirmed she will be undergoing surgery on both her hands and her ankle, ruling her out of the French Open and Wimbledon. Her right wrist, the one which caused her the most trouble, has already been operated on.
Dr. Ralph Rogers, a renowned sports doctor and consultant in regenerative orthopaedics and sports medicine, has offered insights into Raducanu's recovery process. He suggests a staged approach to rehabilitation, emphasizing the need to address any underlying biomechanical issues during her recovery period. Dr. Rogers warns against the risk of rushing back to competition, as this could lead to further injuries down the line. While we would all love to see Emma Raducanu return to tennis as soon as possible, the reality is she needs to do what's best for her body going forward.
Raducanu's withdrawal from major tournaments, including the French Open and Wimbledon, has had a significant impact on her career and rankings. She is recently fell out of the WTA's top 100 rankings due to her absence from the Madrid Open. This drop in rankings will undoubtedly be a blow to her momentum, but it is essential to prioritize her health and well-being above all else. As Emma Raducanu faces the challenge of recovering from her injuries, it is vital to recognize the importance of taking time to heal and not succumbing to the pressure to return quickly.
There are numerous examples of athletes who have come back stronger after injuries, and with proper care and rehabilitation, Raducanu has the potential to follow in their footsteps.
Focusing on the 2024 season may be a wise decision for Raducanu, as it would allow her ample time to recover, address any biomechanical issues, and prepare for a strong comeback. Patience will be crucial during this period, both for Raducanu herself and for her fans and the tennis community.
The significance of a proper recovery process for Emma Raducanu cannot be overstated. As she faces the challenges of healing and rehabilitation, it is essential for her to take her time and not rush back to competition. By doing so, she can reduce the risk of further injury and set herself up for long-term success in her tennis career.
Patience and support from fans in the tennis community will be critical during this period.
As we look forward to Emma Raducanu's eventual return to the court, we must remember that her health and well-being must come first. With the right approach to recovery, we can hope to see her come back stronger than ever, ready to dazzle us with her skills on the tennis courts once again. Best wishes Emma! ❤️