Gucci, the iconic Italian fashion house, has a rich history that dates back to 1921 when Guccio Gucci opened his first store in Florence. Over the years, Gucci has become synonymous with luxury, glamour, and innovation, captivating the hearts of fashion enthusiasts worldwide. Today, we turn our focus to the Gucci Tennis 1977 Sneaker, a perfect embodiment of the brand's commitment to heritage, style, and performance.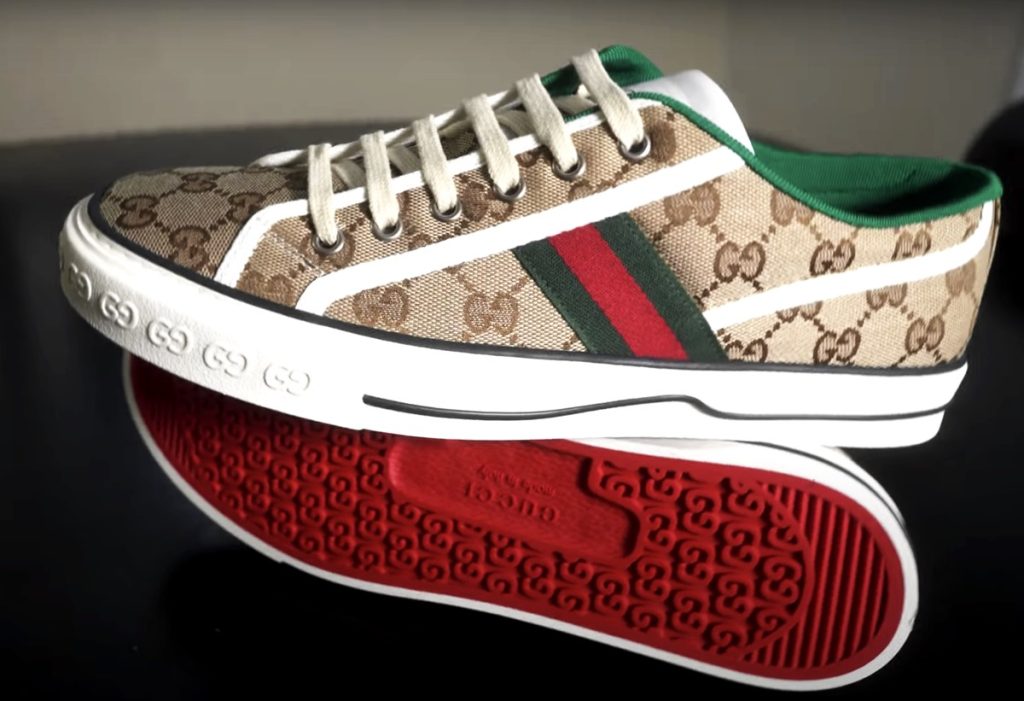 Drawing inspiration from the 1970s tennis culture, the Gucci Tennis 1977 Sneaker pays homage to the elegant yet casual vibe that defined the era. Key design elements, such as the brand's signature GG monogram, are artfully incorporated into the sneaker, making it instantly recognizable. The color palette is a mix of classic and contemporary shades, while high-quality materials such as canvas, leather, and suede ensure durability and comfort.
The Gucci Tennis 1977 Sneaker is available in both high-top and low-top variations, catering to individual preferences and styles. Exclusive designs and collaborations with other renowned brands or artists elevate the sneaker's appeal, making it a coveted collector's item. In terms of comfort and performance, Gucci's attention to detail ensures that the wearer enjoys both style and functionality in equal measure.
The launch of the Gucci Tennis 1977 Sneaker was accompanied by a comprehensive marketing campaign, featuring celebrity endorsements and collaborations with prominent figures in fashion, sports, and entertainment. Social media played a pivotal role in showcasing the sneaker's versatility and allure, creating a buzz among luxury sportswear enthusiasts. The impact of the Gucci Tennis 1977 Sneaker on the luxury sportswear market has been significant, with the brand's unique blend of heritage and modernity setting it apart from competitors.
Sustainability is at the core of Gucci's ethos, and the Tennis 1977 Sneaker is no exception.
The brand's commitment to environmentally friendly practices is evident in the materials used, as well as the production methods employed. By utilizing eco-conscious fabrics and adopting carbon-neutral manufacturing processes, Gucci has demonstrated its unwavering dedication to preserving the environment while maintaining its signature luxury appeal.
A perfect blend of luxury and sportswear, the Gucci Tennis 1977 Sneaker offers endless styling possibilities. To create a harmonious balance between high-fashion and sporty chic, consider mixing luxe fabrics like silk or cashmere with more casual materials such as denim or cotton. The juxtaposition of elegance and informality creates a captivating and modern look.
The versatility of the Gucci Tennis 1977 Sneaker means that it can be effortlessly paired with a wide range of outfits and for various occasions. For a daytime ensemble, consider teaming the sneakers with a pair of jeans and a statement blouse. Alternatively, for a more polished evening look, opt for tailored trousers and a sleek blazer. The possibilities are endless, allowing you to express your personal style while showcasing the timeless appeal of Gucci.
The Gucci Tennis 1977 Sneaker holds a significant place in the fashion world, perfectly embodying the fusion of luxury and sportswear that has become increasingly popular in recent years. Its unique design, rich heritage, and commitment to sustainability make it a sought-after item for fashion enthusiasts and collectors alike. As we move forward, the trend of luxury sportswear collections is likely to continue gaining traction, with brands like Gucci leading the charge in innovation and design.
The Gucci Tennis 1977 Sneaker is a testament to the endless possibilities that arise when the worlds of high-fashion and sportswear collide, offering a glimpse into the future of luxury fashion.