In November of 2021 professional tennis player Peng Shuai made an allegation on Weibo a Chinese social media app in response to the #metoo movement that she was coerced into having sex with a high ranking CCP official and sexually assaulted over a period of time lasting 10 years. Her post was removed within 15 minutes as part of a Chinese censorship movement. Shortly thereafter Peng Shuai herself disappeared and no longer attended any more WTA events even though she was still active player. In February of 2022 she made her last public appearance with the International Olympic Committee President at an Olympic skiing event.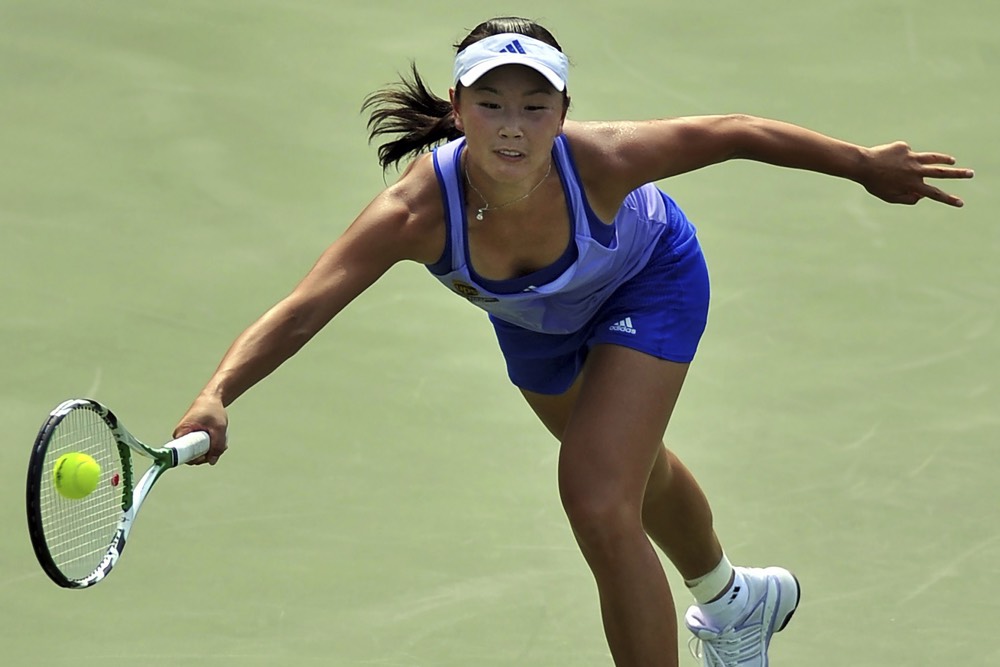 Nov. 2021, Peng Shuai makes a claim on the chinese social networking app Weibo that former Chinese Vice Premier Zhang Gaoli had been sexually assaulting her for a decade.
Peng has not been seen or heard from since, and her accusation was scrubbed from Chinese social media which happened just 15 minutes after the post was made.
It's not uncommon for high-profile Chinese figures to be disappeared following scandals.
Initially her claim was that Zhang Gaoli had sexually assaulted her, and pressured her to have a nearly 10-year sexual relationship with him and his wife, writing on Weibo as part of the #metoo movement: "I did not have any evidence, and it was simply impossible to have evidence. I couldn't describe how disgusted I was, and how many times I asked myself am I still a human? I feel like a walking corpse. Every day I was acting, which person is the real me?" – Peng Shuai
Later when she met with the IOC president Peng Shuai redacted her initial claim stating:
"Sexual assault? I never said that anyone made me submit to a sexual assault." Regarding her since-deleted November social media post detailing her allegations against former Chinese Vice Premier Zhang Gaoli, Peng said: "This post resulted in an enormous misunderstanding from the outside world. My wish is that the meaning of this post no longer be skewed." When asked why the post was deleted, Peng replied, "I erased it. Why? Because I wanted to." If that's not the most "I fell down some stairs" excuse by a victim of abuse I don't know what is.
I wonder what sort of interrogation and mental reprogramming Peng Shuai has been subjected to.
The WTA isn't buying it either. This is where we really start diving into the thick of things…
Prior to Peng Shuai's mysterious disappearance the WTA had accepted a $500 million dollar 10 year contract to perform the WTA Finals in Shenzhen, China from 2020-2030.
This carries with it a more significant impact than most people realize. Performing the finals in China would give it a feeling of superiority over other major events. It would also portray China as the wealthy superior nation they're always trying to make themselves out to be. Now they claim the Covid resurgence in China stopped this contract from happening. However, the WTA has also claimed they won't return to China until they're satisfied with their answer to Peng Shuai's disappearance. Regardless of whether it's because of the Pandemic or Peng Shuai, the WTA has released it's 2023 schedule and China is not listed as one of the countries where they'll be holding any tournaments. They say this is subject to change, which leaves the door open should things change with the whole situation.
It makes us wonder though, what happened to the $500 million the WTA was given (or promised) in exchange for holding the future WTA Finals events in Shenzhen? My guess is they didn't get this money because they accepted $150 million from CVC, a Luxembourg-based French private equity, and investment advisory firm in late 2022. The $150 investment was for a 20% stake in their commercial revenue which gives the commercial revenue side of their business a 750 million dollar valuation. Without the $150 million infusion from CVC, it's questionable whether the WTA would've even been able to survive much longer.
In terms of regular events, the 2023 WTA schedule will feature seven 1000 tournaments:
Dubai
Indian Wells
Miami
Madrid
Rome
Montreal
Cincinnati
Given that three of the seven majors are in the US you'd think they'd be doing more to market Women's Professional Tennis and WTA stars in the United States. Two of the women currently in the top 10; Coca Gauff and Jessica Pegula are from the United States. Both of these women attended the WTA Finals, yet attendance was dismal.
Why can't we get America more involved in Tennis?
That's a good question. There's no reason they shouldn't be, Tennis is an iconic sport that requires grace, skill, mental fortitude and athleticism to be the best. It's a great initiative to push to the youth; yet very little is being done to promote tennis and tennis stars to the youth in the United States. Taylor Swift tickets can sell out in 5 minutes, meanwhile attendance at Indian Wells was down 50% in 2021 and other venues aren't doing much better. How are we not selling out these events? We need have to get the youth involved, other countries such as Great Britain are doing much more to promote tennis within their country and overall it's paying off big time for their athletes because their fans love them. Why can't we do the same for the US stars?
Britain's LTA does a fantastic job of promoting their players to the youth and getting the youth inspired in Tennis.
Why can't the USTA do the same? The US also has promising players who could inspire the youth. I know that Coca Gauff has a great personality and is charming. Why isn't she in more ad campaigns here? Jessica Pegula is a strong player who plays aggressively and has made a huge climb recently playing the best Tennis of her life, yet she still complains that she's not who they want to push. Why is the tour all but ignoring top players like Jessica? I think many players could learn from her style. I feel like she wants to help and we're not letting her. Let's fix this. Let's get more players more involved. Let's market the players more and grow their fan bases. It's easier for fans to connect to tennis through the players and that's the way it should be. If you've made it this far then I invite you to check out Tennis Player Bios which is a website that was made to connect players with fans through their social media. Support your sport by following your favorite players and get more involved. It's going to be up to fans to save the sport of Tennis.
Where are we now with the Peng Shuai situation?
Authorities from the WTA Tour have provided no timeline for talks with China. They're currently playing hardball telling China they won't return until the situation is resolved and that they can't continue to leave things in limbo year by year. The WTA has stated they want to either get to the bottom of this or find a replacement for their 10 year $500 million dollar contract with China. Do they have another buyer though? Neither China nor the WTA seems to be budging. It would be nice if we could get more American investor involvement allowing the WTA to tread water and possibly pushing for the human rights of Peng Shuai although that may be too much to ask.
Sources: