After Winning the US Open in 2021 Emma has Been a Major Influence on Youth Tennis in Great Britain. Tennis is an integral part of the United Kingdom's culture and King Charles III has now bestowed the Member of the Most Excellent Order of the British Empire award to Emma Raducanu. What a wonderful addition to the royal family! Well deserved Emma. 👏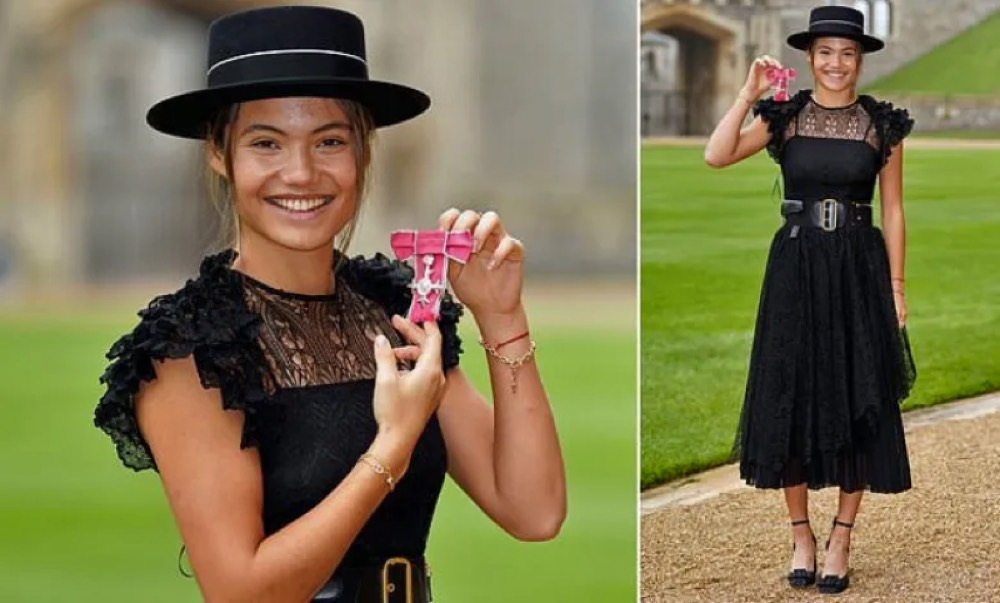 The celebrity superstar certainly looked the part as she wore a demure black lace dress designed by Dior and tightened with a hefty black leather belt. She also wore black Mary Jane heels and a small black boater hat to complete her look. The entire ensemble came from Dior's Cruise 2023 collection, which the fashion house debuted in June of 2022.
In a statement that was distributed via her agency, Raducanu was quoted as saying, "It's been great to receive my honor today from his Majesty the King – I feel incredibly grateful."
Raducanu was introduced as an ambassador for the French fashion house Dior, a month after she won the US Open. She was also named the face of both of Maria Grazia Chiuri's womenswear collections. She said of her deal at that time: "Maria Grazia's work inspires women to feel confidence in the iconic Dior cut which I feel is very unique," she told British Vogue.
After Raducanu won the 2021 US Open, an increased number of children in the United Kingdom took an interest in the sport of tennis and began learning how to play. 
Every young person should be given opportunities to develop their talents to the fullest. And I certainly think it's wonderful to see young people getting praised and being rewarded." Labour MP Dame Nia Griffith was quoted on her thoughts of Emma Raducanu being awarded her MBE.
It would also appear that Emma Raducanu is gaining a lot of favor with the British Royal Family. After Raducanu was crowned champion of the U.S. Open, she was given a letter of congratulations from none other than the late Queen Elizabeth II.
The letter expressed happiness for Raducanu's extraordinary accomplishment:
I send my congratulations to you on your success in winning the United States Open Tennis Championships. It is a remarkable achievement at such a young age, and is testament to your hard work and dedication. I have no doubt your outstanding performance, and that of your opponent Leylah Fernandez, will inspire the next generation of tennis players. I send my warmest good wishes to you and your many supporters. ELIZABETH R.
After the passing of the Queen, Raducanu expressed her condolences by noting that her country had lost a very powerful leader who had done a great deal of good for the people of the United Kingdom. The Queen was most certainly on Emma's mind front and center as she accepted the award. Going forward it will be great to see how Emma upholds the honour. Helping the youth find their passion in Tennis has always made her extremely happy. It's nice to see her being recognized for how much she's been giving back to her community. One thing the United Kingdom has always done well is support and recognize their most honourable athletes.