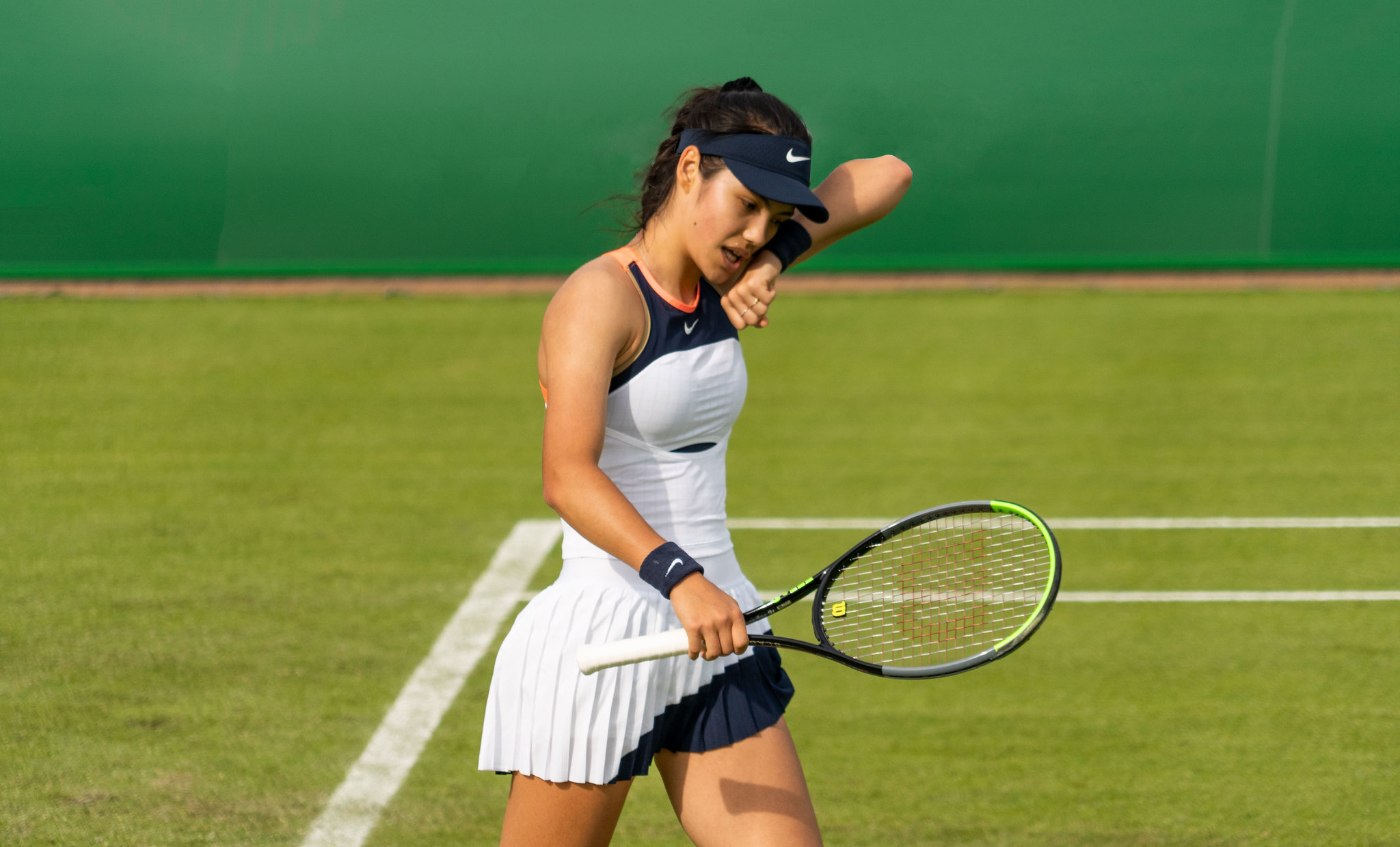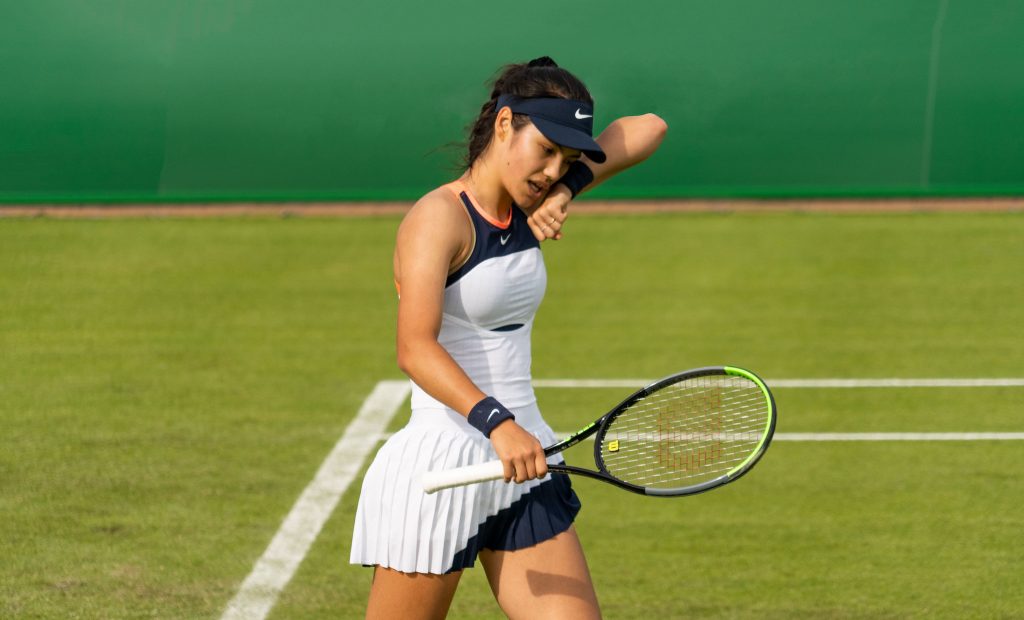 Who is Emma Raducanu
Emma Raducanu made #12 on the top 100 most marketable athletes list making her the second highest active female tennis player listed. Double Olympic skiing champion Eileen Gu and tennis star Emma Raducanu were the only athletes with Chinese heritage to make SportsPro Media's list. Now in its 13th year, SportsPro's 100 Most Marketable is designed to help sports marketers in making informed decisions around sponsorship deals. Emma Raducanu has a strong heritage rooted in tennis coming from a place where Tennis originated: In April 1968, the first Open Era tournament was the British Hard Court Championships. It took place in England.
Raducanu's Romanian-Chinese background, mastery of the game, and engaging personality make her "a golden goose" according to sports marketing experts. She speaks fluent Mandarin with great pronunciation and a strong vocabulary which is a huge benefit to her global sponsors who do business in China, from an eyeballs point of view there is no bigger market to tap into. Raducanu's sponsorship deals and other endorsements earned her over $20 million dollars in the past year alone. Ultimately how commercially successful she could be off court depends on how successful she is on the tennis court. Should she continue to maintain a top ranking she will be continue to be rewarded for it; being represented by the same super-agent who helped turn Russian Maria Sharapova into the highest-earning female athlete — after she won Wimbledon at 17, and went on to make over $320 million dollars in sponsorships. Emma's future looks bright!
Emma Raducanu is the Future of Tennis
Raducanu will need further on-court success to reach the level of the greats like Sharapova and Serena with to remain commercially attractive to sponsors. Should she manage this, she could easily become one of the highest paid female athletes in the world of sports. With her top level training and coaching she is sure to add even more exciting accomplishments to her legacy in the coming years. On the court she's a fierce competitor with a no quit, never give up attitude. Off court she's cordial, kind, and well received by true fans and purest of the sport. How could you not like someone who lays it all out on the line and puts her heart into everything she does?
On top of all those accomplishments, Emma has a lot of interests outside of tennis. She loves to travel, spend time with friends and family, and watch movies whether she's chilling in first class on British Airways where she's paid to fly, or staying in posh hotels on tour. She also likes the outdoors: dirt biking, riding roller coasters, touring the city with friends, or having a bite to eat. If you listen to Emma's pressers she's always mentioning how she loves the food everywhere she goes, she's a consummate foodie! What makes Emma stand out from other players on the tour is her ability to stay calm among the chaos. While other players get highly emotional when things don't go their way you'll never see that with Emma. She may show distaste in her performance, but she never lets it get to her to where she loses her focus.
Emma's Celebrity Grew Almost Overnight
There were two major boosts in Emma's career and they happened one right after the other. The first was her progressing deep into the fourth round of Wimbledon in August of 2021. The second came a few months later in late August / early September when she went from being a qualifier to winning the US Open without dropping a single set. Her accomplishment and prowess at such a young age garnered her some serious attention and made her an instant celebrity. It could be said from that moment on "the rest is history".
During her first full year on the WTA tour Emma Raducanu reached the top 10, which is quite an accomplishment for someone so young. She's earned respect and admiration from everyone around her by being a fierce competitor while still being a great role model. Whether you're a fan of Emma or not there's no denying the sport is going through a changing of the guard. Emma represents the new era of tennis and she was one of the first young women to bring it forward. Sports athletes today are much more evolved than they were 20 years ago. The previous era held the torch that lit the way for the new generation of tennis player — who is much more in tune with how to make the most of their leadership role. These athletes have been coached and trained not only on how to play tennis, but on how to handle the attention and media with poise.
It's no coincidence that Emma comes from the United Kingdom where Tennis is ingrained into the lifeblood of the culture. For her Tennis is what she does, there is nothing else outside of tennis, other than friends and family which are also very important to her. Eat, train, play tennis, rest and repeat. The strenuous travel schedule comes with being on tour and for someone who's played around the world since she was a teen it's all part of the routine. Emma enjoys being a part of the opulent culture, staying in lavish hotels, and flying first class (which she gets paid for doing as part of her deal with British Airways). By traveling to places like Paris – Emma's developed her own distinct taste in art and style which you can see by the artists and designers she follows on Instagram. Perhaps as if in a constant state of wonderment: If it's interesting she's probably interested in it. You may've also noticed Emma Raducanu is a talented photographer…
Her Instagram has 2.5 Million followers.
Emma is an thrill seeker and fellow sports fan who enjoys racing. On the weekends she often attending some sort of automotive racing event where she graciously takes selfies with fans and signs autographs for the fans that spot her. She's almost more recognized at this point than the Beatles were in the United Kingdom. Her diet consists mainly of seafood, particularly: Salmon. She loves to eat Sushi and even created her own "Emma Roll"; which if it isn't featured in any restaurants right now it should be. Her Sushi rolling technique is better than most Master Chefs.
How did Emma Raducanu become such a popular tennis player?
What Emma does better than most athletes in her field is tell her story. She's transparent and shares where she travels, what she's doing, and who she's with on her social media. That's part of her character, she's British and they have no trouble telling it like it is. When she steps off the court her aggressiveness turns to confidence, whatever happens she'll handle what comes her way. If anything I wish she was more active on twitter so we could know what she's thinking, but chances are she's too busy training to send out random "thought of the day" tweets.