There's a new website for finding professional tennis player's social media accounts: Tennis Player Bios. It's sort of like a mini social network in itself. You can search all your favorite players on the WTA and ATP tour. Players can be sorted by Height, Age, and Country and when you click their profile card it expands to show their socials. The nice thing about this site is it's clean and easy to navigate. I've been a tennis fan for a year now and while I've built up a decent list of my favorite players to follow this site gave me plenty more on Twitter and Instagram.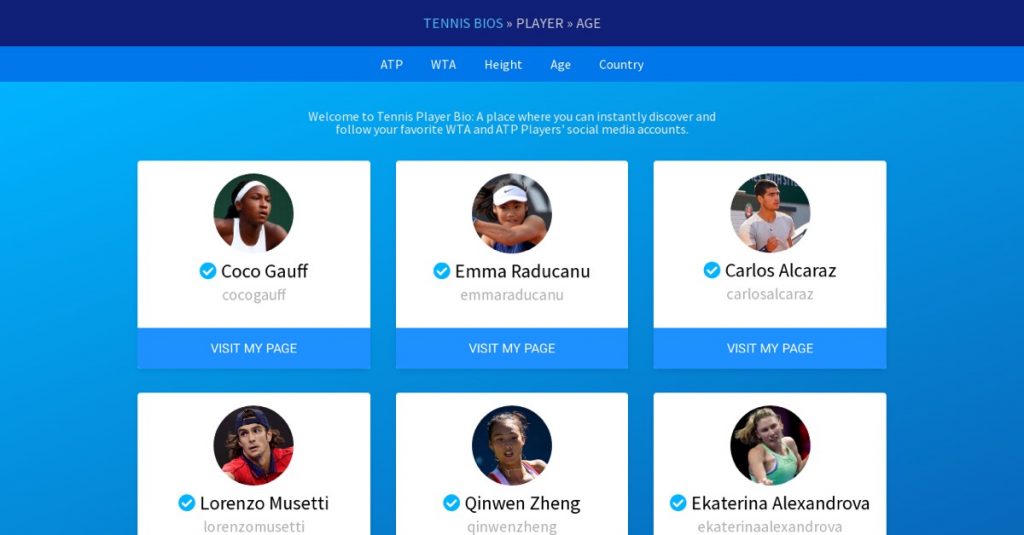 They'll be adding more to the site in the coming months including…
Player SIgn-up Page for all ITF, WTA, and ATP Players
Tennis coach profiles (similar to the player bios)
Paid verification with priority search placement
The idea behind this website is to be a "portal" that will help all players build their social media during a time when it's more critical than ever before to grow your social media presence. The secret to making money in sports today is to become and influencer on social media which will entice brands and businesses to want to work with you and have you post #ads for them in addition to giving their products exposure on your social media and press appearances.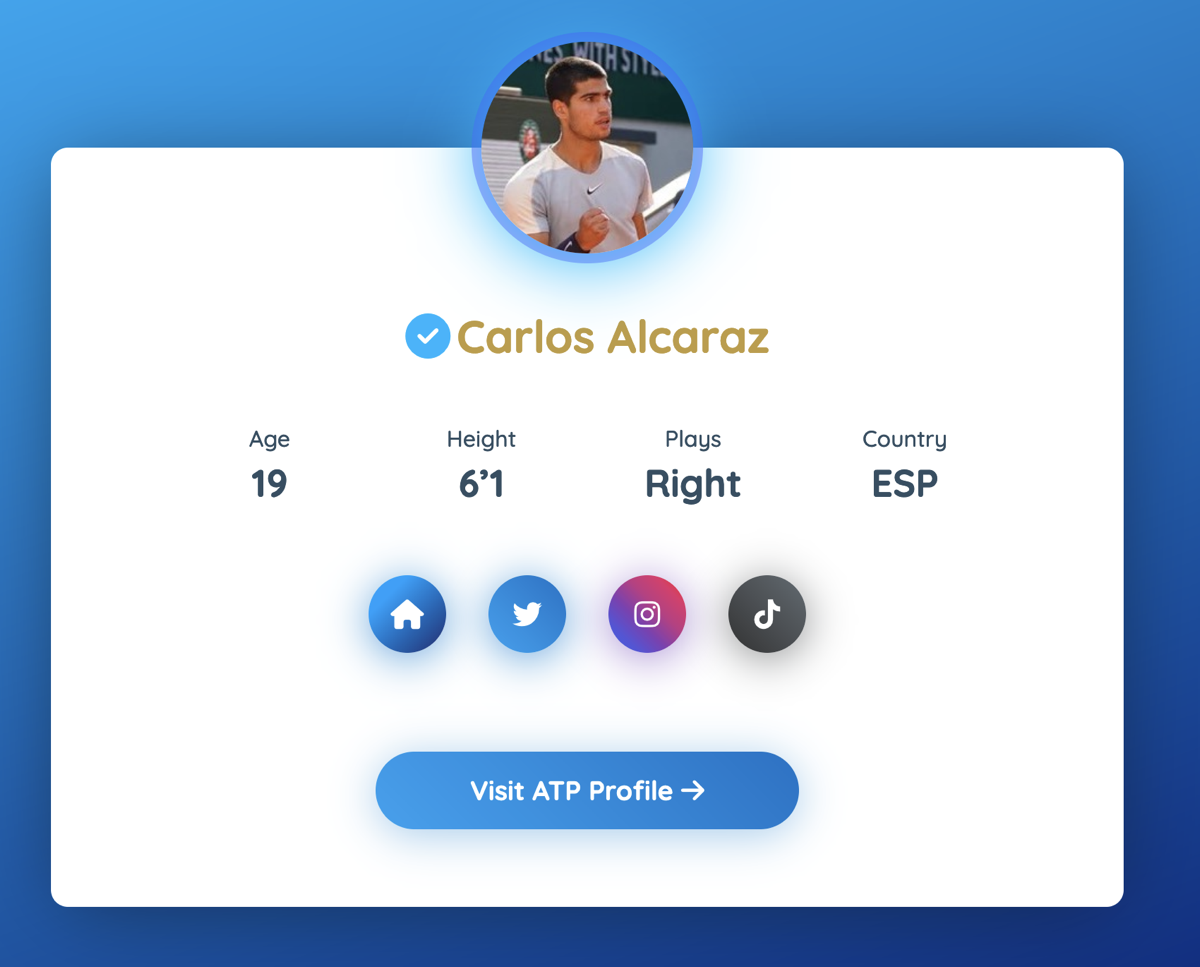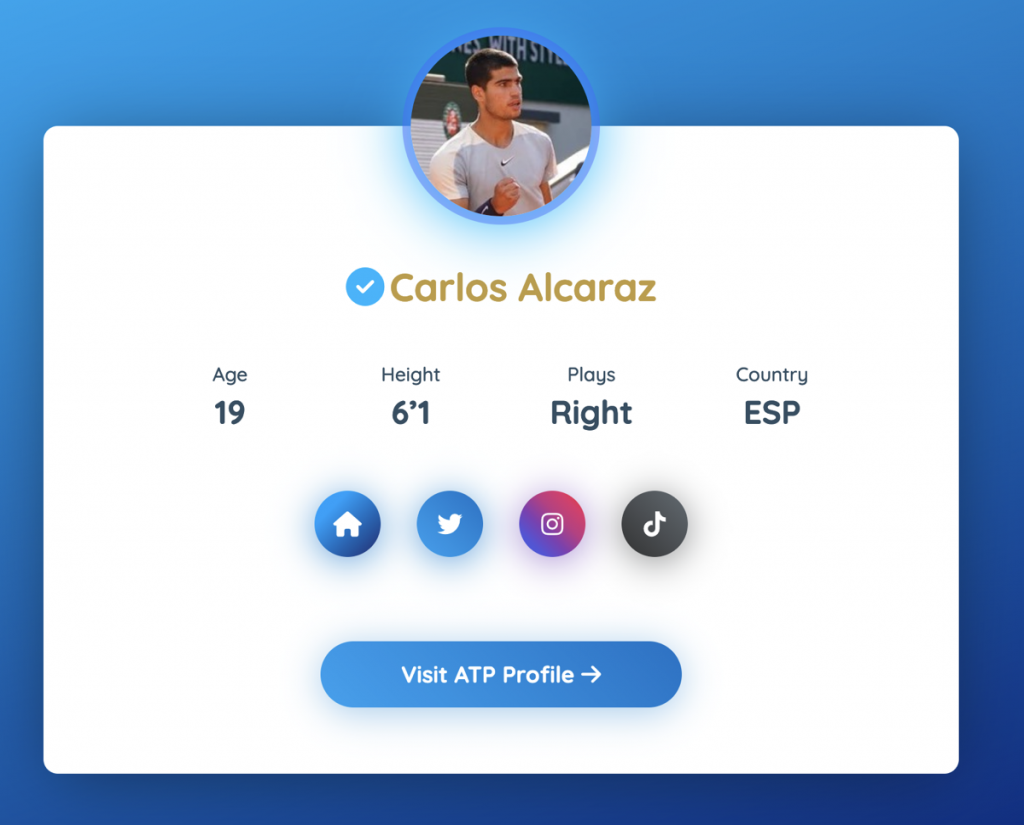 I asked the developer…
What's the idea behind Tennis Player Bios?
"Right now Tennis Player Bios is still a Minimum Viable Product. Think of the early stages of Facebook how the platform looked and what it's expanded to today. We are on version one of what I hope to be several versions. I put a few weeks into coding the site and working on a payment system which is already in place and ready to go when we roll out that functionality. I also created a thread on reddit to get feedback on the first release and overall the community feedback was overwhelmingly positive. 20,000+ people viewed my reddit post on r/tennis. Many visited the website and checked out the profiles. And as a result Google gave us a nice detailed listing for our website.
We can all benefit from more social media exposure.
One thing that made the vision of the Tennis Player bio premium tier clearer was Elon Musk's takeover of twitter and subsequent implementation of a paid subscription service for "Blue"… Which gives you the verified blue checkmark on twitter and priority in search and replies. This should help the general public get over the barrier of understanding for why people should pay for premium on a social site.
The check mark thing sort of worked in our favor. Why would a tennis player or a coach want to pay for premium on Tennis Player Bios? Because the more exposure they get, the more followers they get on social media, the stronger their brand becomes. We've seen this with tennis players such as Emma Raducanu who built over 2.5 Million Instagram followers after her iconic US Open win. Today Emma can leverage her social media to earn money from long term and short term sponsors. The same factor works for any player.
Build up your social media and you automatically become more valuable. Your fans want to follow you on your socials.
Tennis as a whole needs an influx of cash to survive in current markets. It all starts with exposing the sport of tennis to more people. There's so much to like about the sport of tennis, it's can be a great influence on the youth and tennis players are excellent role models for both children and adults. If you're a tennis enthusiast you know the passion that comes with being a player or a fan. One of the unique things about tennis as opposed to other sports is we can related to the players on a more personal level. We see ourselves in them. The idea behind Tennis Player Bios is to bring more exposure to tennis players and coaches and build a stronger community.
By far the largest amount of searches in Tennis are player centric.
There's a reason for this. We connect with the players on a personal level. We're not only interested in the success of our favorite players, but also their same ancillary interests. What type of tennis racket does our favorite player use? What type of strings are they using? What's their favorite shoe brand or clothing brands. There's a number of sponsorship opportunities "baked in" to the formula and that's become a part of our sport. The best way to get to know our favorite players in today's age has become on social media websites like Instagram and Twitter.