Start playing tennis at a young age. It takes a minimum of 10 years of development.
Be passionate about tennis — it has to be your greatest passion above all else.
Play competitive tennis during your decade+ of development against top opponents.
Master your emotions, learn to stay calm at all times and never, ever give up.
Take the process of learning about yourself to learning the game of tennis
Relax the arms and use the body, specifically the lower body, for power
Move so you can use your entire body for power, not just swing your arms.
The tennis swings have shape, learn the proper form for each of the swings.
Make yourself as fit as possible focusing on stamina, strength and flexibility.
Don't think about winning the match. Think about how to win the point.
It's best to get started with tennis early…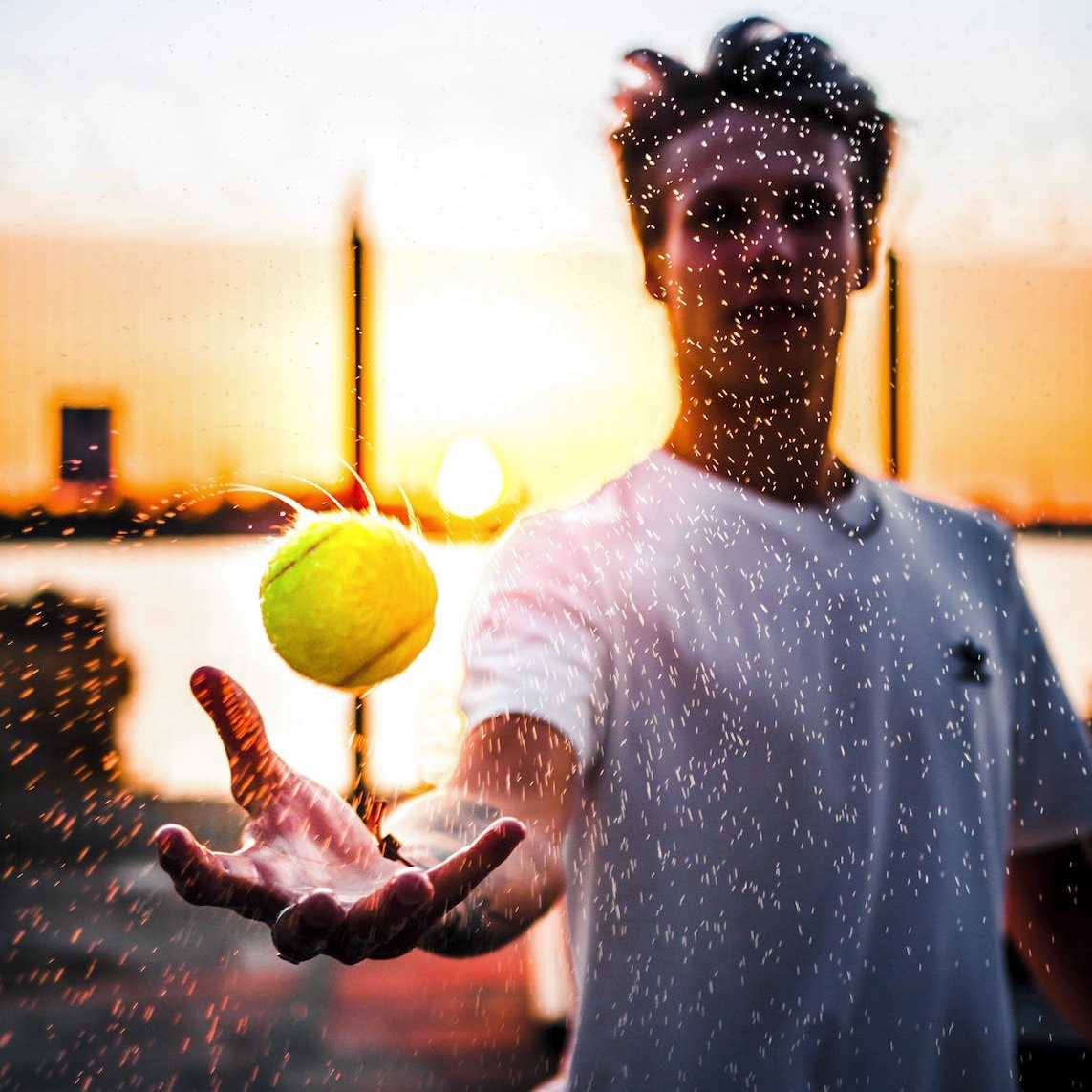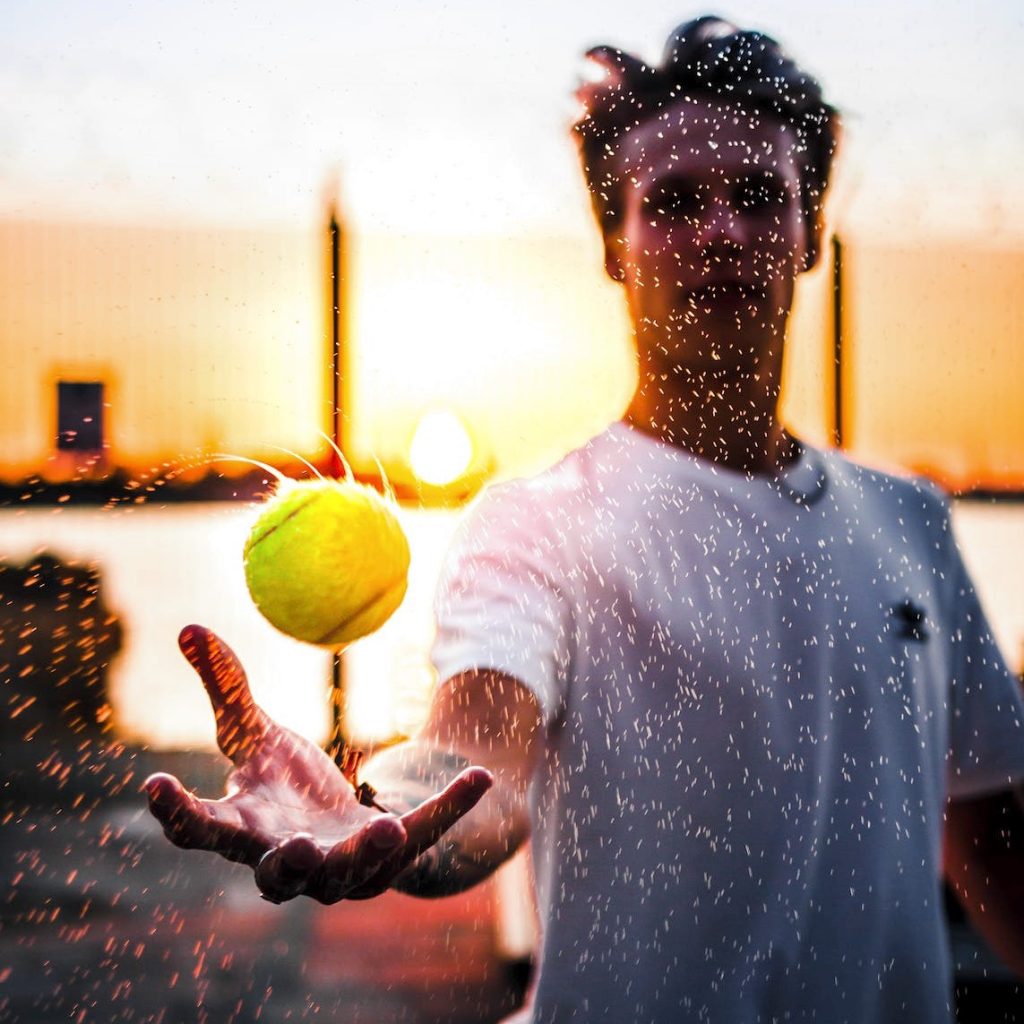 It's an ideal to get started playing tennis at an early age. You can hire a coach after playing tennis for about 5 years to develop your game properly. Begin playing national ITF level tournaments or consider attending an academy to train full time following proper development with reputable tennis coaches. Around this same time you want to look into hiring a tennis agent to handle travel and possibly arrange sponsorships that will help you with supplies such as rackets, shoes, bags, and your tennis gear such as clothing etc. It's been said it takes about $385,000 investment to bring a player up to the professional level.
When you're 16 you can begin to play pro level matches on the ITF circuit or WTA / ATP tournaments upon successful entry. There is however a limit to how many tournaments you can play per year until you reach the age of 18. If you're able to win matches when you're 18 you can earn prize money which makes you a paid professional! The game of tennis requires a lifetime of dedication, work hard and if you become talented enough you can reach the top levels of professional tennis. Get your hand on the most core fundamentals of the game. Don't try too early to specialize. Play a variety of sports to ensure balance with your training and emphasize learning over winning as you begin to you develop your game and reach higher levels.
When your skill level allows, start playing others in full sets matches as part of your normal practice routine. Play as many people as possible and in different venues. Start to enter local tourneys as soon as you are confident you can compete in matches against others in your age group. Enter as many tourneys in your district as possible. After you reach the professional level if you are super talented, you'll need at 5 more years of intense training to get to your top level and consistently compete in the top 100 of professional level ATP and WTA tours. A huge sum of money to pay all the coaches, physios, hotels, tournament fees, traveling and other expenses are required on tour. Because of this many athletes take on sponsorships which also requires a certain amount of their time to attend to. And this would just be the start of it.
Tennis is said to be one of the hardest sports to master.
For most individuals the basics: your forehand, backhand and serve, are learned fairly rapidly.
The rest is a matter of perfecting your technique to where these movements are made naturally.
Finally, you'll need to remember a large part of the game is mental so learn how to keep your focus during match play. Don't neglect tennis strategy, study other professional tennis players and see what tricks they implement, then try implementing this same tricks in your own tennis game.
Once you have the best racket and a pair of the best tennis shoes you're ready to go!
Your strengths will need to outweigh your weaknesses and you'll need to be durable.
You can't really have many weaknesses when you're playing at the professional level.
You'll need a shot that can win quick points like a strong forehand or efficient serve.
You'll likely need a repertoire of good shots like a strong forehand, backhand and serve.
Practice is a necessity, but it would be a great story if someone in their early 20's started playing tennis and made a name for himself on the tour. Similar to how Jake Paul picked up boxing and became a top tier professional in the sport of professional fighting within 5 years.
The founder of Lacoste didn't start taking tennis seriously until he's was 19 and went on to win a major within 5 years of religiously playing the sport. While it's not necessary to begin tennis early, it certainly does help, and there may be something to learning muscle memory and training shortly after learning to walk. I know two of the most successful athletes on the ATP and WTA tour started at age 5, were discovered at 12-13 and reached the top 10 of the tour by the age of 18. One was a man and one was a woman. So there's certainly something to this model that is proven to work and the rewards for developing a skilled athlete with proper tennis training are more than worth the investment. Imagine spending $500,000 developing a Naomi Osaka for instance who made $57 Million Dollars in 2021 alone which is a 100x. Whoever fronted the cost of developing Naomi early on as a tennis player has likely earned a nice return and then some.