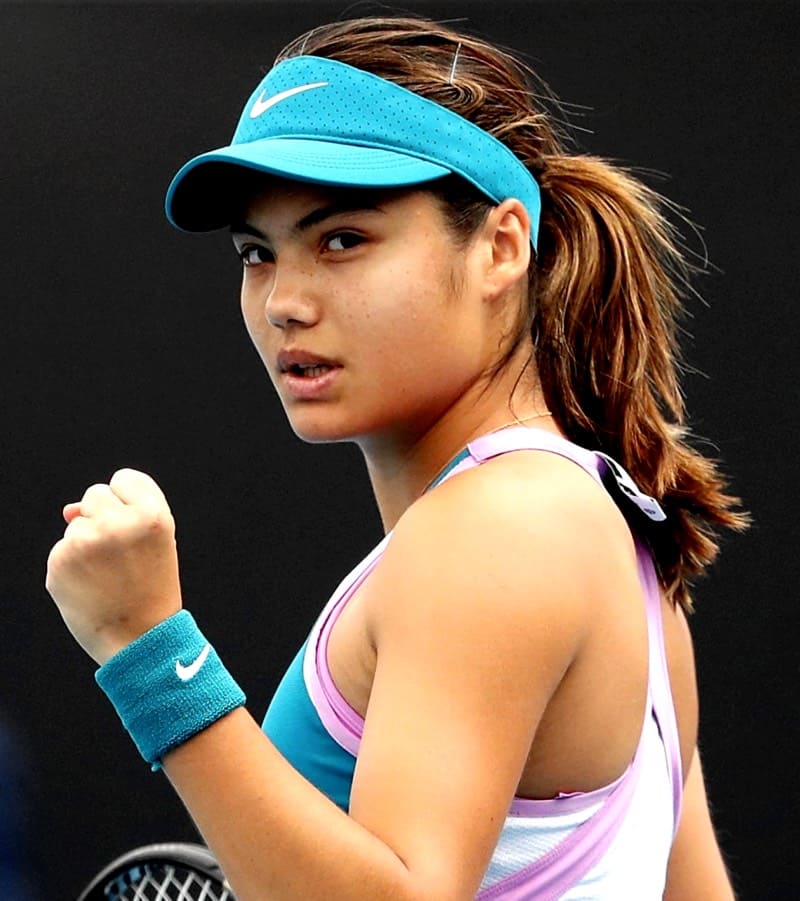 The first round of the women's competition in the Australian Open has just come to a close, and it featured a number of matches that were both exciting and surprising. This year's competition seems to have a theme of speed and efficiency, since several matches were completed in straight sets. The Australian Open, which is the first Grand Slam tournament of the year, lived up to its reputation as one of the most grueling tournaments in terms of both the heat and the speed of the play. The competition was held at Melbourne Park, where the participants were subjected to the warm Australian sun and a rowdy crowd.
Emma Raducanu Came Out Guns Blazing!
Undoubtedly one of the most exciting moments of the opening round was Emma Raducanu vs the more experienced player Tamara Korpatsch . Raducanu, who recently reformulated her team was happy with her results, breezing through her opponent with an easy 6-3, 6-2 victory. Throughout the match, Raducanu displayed her outstanding strength and endurance, qualities that are consistent with her reputation for toughness and a never-give-up mentality. The big difference in the match was her incredible serving and her relentless defense. It looks like she's starting to find her groove out there. If Emma maintains this form she's going to be a force to be reckoned with in the Australian Open.
Iga Świątek was in a Heated Battle but Came Out on Top
Iga Świątek secured a hard-fought victory in her opening match, defeating her opponent J. Niemeier in a closely contested match. The final score was 6-4, 7-5 in favor of Świątek, who demonstrated her superior skill and determination on the court. Throughout the match, Świątek displayed impressive consistency and power, putting pressure on her opponent with her aggressive play. Her ability to control the tempo of the match and dictate play proved to be the decisive factor in her victory. Iga is projected to be a likely contender in the Finals.
Jessica Pegula Quickly Dispatched Jaqueline Cristian
Jessica Pegula kicked off her Australian Open campaign with a dominant performance in the first round against Jaqueline Cristian. The American player defeated her opponent in straight sets with a score of 6-0, 6-1. Pegula showed her impressive form, displaying her strong serve and aggressive style of play throughout the match. It was a commanding display from the world number three, who is known for her powerful strokes and aggressive playing style. Jessica's impressive performance in the first round certainly bodes well for her chances in the tournament.
Maria Sakkari Ended the Night for Yue Yuan in 2 Sets
Maria Sakkari put on a clinical display of tennis in her opening match of the Australian Open, easily dispatching her Chinese opponent, Yue Yuan, in straight sets 6-1, 6-4. The Greek player was at her very best, showcasing her powerful serve and aggressive style of play. She was in complete control of the match throughout, hitting winners at will and maintaining a high level of consistency. She broke her opponent's serve in the very first game of the match and never looked back, quickly taking the first set 6-1. The second set was a little more competitive, but Sakkari was still able to come out on top, winning 6-4.
Danielle Collins fought hard in a Gritty 3 Round Match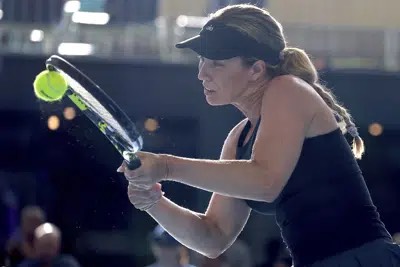 Danielle Collins put on a determined performance in her opening match of the Australian Open, battling her way to a hard-fought victory over Anastasia Kalinskaya. After losing the first set 5-7, Collins never gave up and went on to take the next two sets 7-5, 6-4. It was a match that had everything, with both players showing off their athleticism, determination, and fighting spirit. Collins came back from a break down in the third set and saved multiple match points to secure her spot in the next round. The American player's powerful groundstrokes and aggressive baseline play were the key to her victory.
We're expecting the rest of the tournament to be a Banger
In spite of the fact that the opening round of the Australian Open featured a number of unexpected outcomes, it did reveal all of our players who will be competing in the subsequent rounds. One interesting matchup that we're looking forward to is Coco Gauff vs Emma Raducanu in round 2. Players who have made it to the next round will now have to compete against opponents who are even more skilled than they were before, but if they have the correct mentality and are adequately prepared, they will prevail. As the level of competition rises, the tournament is shaping up to be an interesting one, and spectators can anticipate an increasing number of entertaining matches and surprising outcomes.
The Australian Open is consistently regarded as one of the most prestigious sporting competitions on the planet, and it continues to feature the very best tennis players from all over the world. Competitors have demonstrated impressive stamina, concentration, and dedication thus far, and we can anticipate more of the same in the rounds to come.